Death toll from Yemen funeral bombing rises to 46
An al-Qaida suicide bomber killed a prominent pro-government tribal chief and at least 45 others at a funeral in Yemen's southern province of Abyan, the Defense Ministry said Sunday.
The al-Qaida suicide bomber detonated the explosives around his waist among funeral guests in Jaar town in Abyan province late on Saturday night, the country's Defense Ministry said in a brief statement posted on its website.
"Latest reports coming from Abyan province indicate that at least 46 people were killed and about 48 others were wounded, some of them in critical conditions," the statement said.
A local pro-government tribal chief is among those killed in the funeral attended by other anti-al-Qaida militiamen and social figures, the statement added.
Al-Qaida claimed responsibility for the deadly attack in an emailed statement obtained by Xinhua on Sunday. "One of our holly warriors carried out a successful jihadist operation on a compound in Jaar town," the statement said without giving more details.
It also threatened to launch further attacks on security officials and military bases across the country.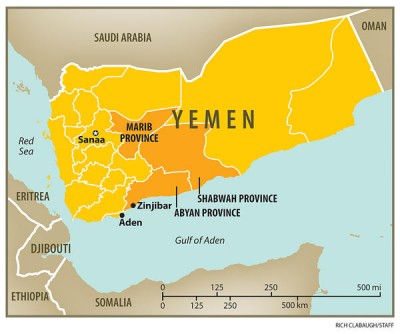 Local residents told Xinhua anonymously that "an al-Qaida attacker apparently disguised himself as a guest and blew himself up at the entrance of the hall, where prominent tribal chiefs were welcoming guests at the funeral in Jaar town."
Backed by the United States, the Yemeni government waged a month-long intensive offensive in May against hundreds of al-Qaida militants, driving them out of strongholds they had controlled for nearly a year.
Combating al-Qaida militants in the restive south is one of the challenges confronting Yemeni President Abd-Rabbu Mansour Hadi, who has promised to restore security and uproot the country's branch of al-Qaida.
Xinhua