Hezbollah MP slams March14 for criticizing cabinet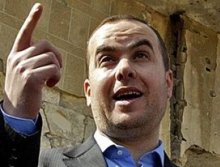 Hezbollah MP Hassan Fadlallah slammed March 14 opposition for criticizing the cabinet accusing it of collaborating with foreign parties to bring down the government , National News Agency reported on Sunday.
"March 14's criticism of the cabinet in coordination with foreign parties was an "attack against Lebanon and its sovereignty." He was quoted as saying.
"Ever since the cabinet was formed ,March 14 has made continuous efforts to undermine state institutions," the Hezbollah MP added
Fadlallah stressed that the current cabinet, which is led by Najib Mikati, was "a necessity" for Lebanon's stability and security.
"[We have] to preserve this cabinet without absolving it from its responsibilities." He said
.
His comment comes after Mikati said in remarks published on Sunday that he has "no problem" if the cabinet collapsed.
"Let the cabinet collapse … I do not have a problem with that," Mikati told An-Nahar newspaper.
The premier blamed the failure of the cabinet on internal political arguments .
In 2011 Hezbollah brought down the government of former PM Saad Hariri and reportedly used its arms to force progressive socialist party leader MP Walid Jumblatt and his parliamentary bloc to vote for their candidate Mikati as the new premier .
The current cabinet is dominated by the Iranian and Syrian backed Hezbollah militant group and its March 8 allies.