Syrian envoy to U. N. claims receiving death threats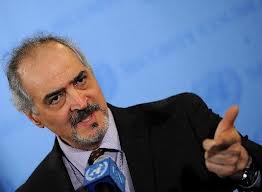 Syria's UN Ambassador Bashar Jaafari said Friday that he and his family had been the target of death threats and had alerted US authorities.
Jaafari, whose daughter is said to have advised President Bashar al-Assad on handling the western media, has become the international face of the Syrian government as it faces mounting international condemnation over the country's bloody conflict.
The envoy told the UN General Assembly he was "proud to defend the interests of my nation against all conspiracies."
But in countering a resolution condemning his government, Jaafari hit out at the death threats and at personal attacks he said had been made by the media in Saudi Arabia and Qatar.
"There have been several threats of murder against me and various Syrian diplomats from sites that exist in Saudi Arabia and Qatar and the United States," Jaafari told the 193-member assembly before the Saudi-sponsored resolution was passed.
"Saudi and Qatari media are no longer satisfied with targeting my country but have targeted me personally and members my family in an immoral way, an unethical way and a shameful way."
He said entire television programs in the two countries devoted to him had "fabricated lies and false statements to distort the reputation of members of my family."
Jaafari did not say which members of his family had been targeted but his 22-year-old daughter Sheherazad Jaafari has been featured widely in Western and Arab media since the start of the conflict. She is due to start a course at Columbia University in New York next month.
"Diplomacy is one thing but having members of your family targeted for that is something else entirely, and I leave that to your conscience all of you," Jaafari told UN ambassadors in the assembly.
AFP