1 injured by gunfire from Hashish growers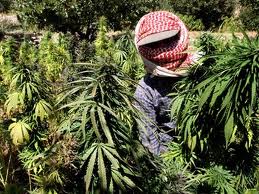 One man was injured on Saturday when Hashish farmers opened fire on a van which was transporting workers to help Lebanese Internal Security Forces in destroying the Hashish farms in the eastern Bekaa valley, National News Agency reported on Saturday.
The injured man was identified as Hussein Nayef Salim, 57. He was wounded after around 15 bullets hit the van in the town of Hawsh Barada in Baalbek region.
The incidents came a day after the Lebanese army command said two soldiers were injured after gunmen opened fire on the troops and ISF personnel in al-Yammouneh.
The Lebanese authorities are reportedly facing many problems in their eradication effort in the Bekaa Valley, one of the world's leading hashish-producing regions.