Targeted in Syria civil war, Iraqis flee back home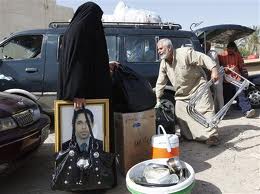 When he saw the bodies of men and women left rotting in the streets of Damascus, Hassan Hadi knew that the sectarian violence he had fled Iraq to escape years ago had now come to Syria. Despairingly, he left his belongings and fled again, back home.
Hadi is one of at least 12,680 Iraqis who streamed back to their homeland the past month to escape the Syrian civil war. Most of them are Iraqi Shiites, fleeing a reported rash of attacks against their community, apparently by Syrian rebel gunmen.
The attacks reflect the increasingly ugly sectarian nature of Syria's conflict, where an opposition largely based among the country's Sunni majority has risen up against the regime of Syrian President Bashar Assad, which is dominated by members of the Alawite sect, an offshoot of Shiite Islam. The motives for the attacks on Iraqis are unclear. They may be revenge against any Iraqi because the Shiite-led Iraqi government is seen as siding with Assad. They may also be fueled by sectarian hatreds, with resentment of Syria's Alawite leadership flaring into anger at Shiites.
In July alone, 23 Iraqi Shiites have been killed in Syria, some of them beheaded, according to the Washington-based Shiite Rights Watch. In one gruesome case, the U.N. said an Iraqi family of seven was killed at gunpoint in their Damascus apartment.
But going back was wrenching for Hadi, given Iraq's continued violence. "There are still bombings and explosions here, and when we decided to return to Iraq, it was a hard moment – we cried a lot," he said, speaking at his mother's house in Baghdad, where his family is staying until they can find a home.
The exodus of Iraqis back home is a bitter reversal for refugees tossed back and forth by violence. According to U.N. estimates, more than 1 million Iraqis fled to Syria between 2005 and 2008, when their homeland was on the brink of civil war, torn between Shiite militias and Sunni insurgents butchering their rival communities. Those who fled to Syria were a sectarian mix, though the majority were Sunnis.
Over the past few years, Iraqis have been slowly leaving Syria, many returning home as violence in Iraq eased. Fewer than 200,000 Iraqis remain in Syria, according to the office of the Iraqi ambassador in Damascus.
The recent targeting of Iraqis, however, brought a spike in returns. The majority of Iraqis fleeing Syria for home over the past month are Shiites, according to Saif Sabah, a spokesman for the Iraqi Ministry of Displacement and Migration.
According to U.N. and Iraqi officials, most of them fled Damascus, which in July saw its worst fighting yet of the 17-month-old Syrian conflict. For days, rebels took over whole neighborhoods of the Syrian capital, prompting a ferocious assault by government forces. Amid the fighting, it appears rebel fighters targeted Iraqis in the city.
The U.N. refugee agency said Iraqis in the mainly Shiite Damascus suburb of Sayeda Zeinab in particular were fleeing because of increasing violence in general but also "targeted threats" against them. Sayeda Zeinab saw heavy activity by rebel fighters during the Damascus battles.
Hadi and his family lived in Sayeda Zeinab. He said Sunni rebels and gangs went on a rampage in the suburb. He blamed the Free Syrian Army, the loose umbrella group of rebel fighters.
"The gangs of the Free Syrian Army started to spread in the area, killing women and some children as well as men," Hadi said last week. "The bodies were left on the street for two days because no one could evacuate the casualties. My children were hysterical."
"They are spreading sectarian violence in Syria," Hadi said.
His report and other reports of anti-Iraqi violence could not be independently confirmed since Assad's regime has tightly restricted journalists in Syria. The conflict has seen numerous tit-for-tat sectarian slayings among Syrians, including reported massacres by Alawite gunmen in Sunni areas.
A spokesman for the Free Syria Army strongly denied it has participated in or sanctioned the targeting of Shiite civilians.
"The members of the Free Syrian Army have principles and never do such things," Brig. Gen. Anwar Saad-Eddin said. "The security situation has deteriorated nationwide and that anyone holds a weapon can say he's from the Free Syrian Army. We have already arrested some of them."
Hadi and his family of five fled to Syria in 2009 from the Iraqi Shiite holy city of Karbala in 2009 after Sunni insurgents killed his older brother. He has returned to a homeland still torn by deadly attacks. On July 23, Sunni insurgents linked to al-Qaida launched attacks in Baghdad and other Iraqi cities that killed 115 people, the country's deadliest in more than two years.
At the al-Walid border crossing between Iraq and Syria crossing, Intisar Adel waited with her husband and daughter to enter Iraq. They fled to Syria in 2009. Now they were returning after gunmen – she believes they were rebels – stormed their apartment building in Damascus and ordered the landlord to evict all Iraqis, she said.
"They shot an Iraqi in the leg and they robbed some Iraqi residents in the building," she said. "We immediately left the building and left our belongings there.
"The situation is unbearable."
Most Iraqis are returning with the help of free flights and bus tickets paid for by the Iraqi government. In the last two weeks alone, Baghdad has flown at least 17 planeloads home from Syria. At least 5,000 Iraqis have driven across border crossings in their chaotic exodus from Syria.
Iraqi officials and Mideast experts say the targeting of Iraqis may be payback against the Baghdad government's ties with Iran, which is Assad's strongest ally in the region.
Though Baghdad has publicly refused to be drawn into Syria's war, skeptics believe it is at least helping Iran ship weapons and other reinforcements to Assad's regime. In March, the U.S. urged Baghdad to cut off its airspace to flights headed to Syria from Iran, and Iraqi Prime Minister Nouri al-Maliki pledged to curb arms smuggling across his borders.
"It seems that the Syrian opposition wrongly thinks that Iraq's government is taking the side of the regime. And some armed groups are targeting Iraqis because of this," said Raad al-Dahlaki, a Sunni lawmaker in Baghdad.
"The people behind attacking Iraqis want to send a message that the conflict is of a regional dimension," al-Dahlaki said, "and some governments and countries in the region should pay now for their stances."
That reflects the broader fear, that as the Syrian conflict worsens it could turn into a wider sectarian conflict. Kamran Bokhari, a Toronto-based expert on Mideast issues for the global intelligence company Statfor, predicted militant groups from across the region will flock to Syria if a peace agreement isn't settled soon.
"The entire region is descending into a regional geosectarian war," Bokhari said. "The question is, how bad is it going to get?"
Huffington post