Erdogan, Obama discuss Syria political transition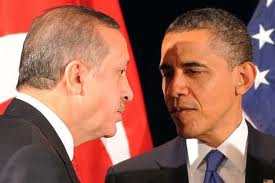 Turkish Prime Minister Tayyip Erdogan and U.S. President Barack Obama discussed how they could work together to speed up political transition in Syria during a telephone call, Erdogan's office said.
Erdogan, who once enjoyed close ties with Syrian President Bashar al-Assad, has become one of his fiercest critics and has demanded he step down in the face of a 16-month-old uprising in which thousands of civilians have died.
"In the talks, they took up the co-ordination of efforts to accelerate the process of political transition in Syria, including Bashar al-Assad leaving the administration and the meeting of the Syrian people's legitimate demands," a statement from Erdogan's office said.
The phone call took place on Monday and Turkish media reports said Erdogan and Obama spoke for 36 minutes.
"The two leaders expressed their growing concern about the worsening human conditions in Syria because of the Syrian regime's attacks targeting its own people and the regime's savagery, most recently seen in Aleppo," it said.
Obama and Erdogan also discussed the need to work together to assist civilians trying to escape the violence in Syria.
There are about 44,000 Syrian refugees in Turkey and there are concerns that the offensive by Assad's army in the northern city of Aleppo could lead to increasing numbers.
"Prime Minister Erdogan and President Obama agreed on the co-ordination of efforts to help Syrians forced to flee to Turkey and neighboring countries," the statement said.
Reuters