Rebels hold 100 Syria loyalists in Aleppo:monitor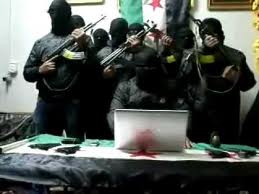 Rebels have detained at least 100 Syrian officers, soldiers and pro-government militiamen this week in the city of Aleppo, where a major battle is anticipated, the Syrian Observatory for Human Rights said on Friday.
A video posted on YouTube showed rebels with Kalashnikovs from "The Tawheed (monotheism) Brigade" guarding the detainees who were lined up in four groups omn a school playground. An off-camera voice said they had been detained in Aleppo, Syria's biggest city.
Some of the detainees' faces were covered with bruises and showed signs of swelling around their eyes and when they spoke their voices quavered.
One said he was a colonel, another a major and several identified themselves as shabbiha, a term used by opposition to describe militiamen who are loyal to President Bashar al-Assad and are fighting alongside his troops.
At the end of the video, a rebel voice said: "The Free Army will terminate all the shabbiha, God willing."
A rebel from the group told Reuters that the detainees were safe and have been moved to an unidentified site in the countryside around Aleppo, which is a rebel stronghold.
"Some were detained in the Shaar police station and others have surrendered," he said.
"They are still alive, they will stay with us until the regime is toppled and then they will be put before a trial, each one will get what he deserves."
Assad has been struggling to crush a 16-month-long uprising against his rule which started as peaceful demonstrations but have become a militarized revolt. At least 17,000 people have been killed in the unrest across the country.
Reuters