Gemayel: Suleiman's stance over Syria violations "courageous"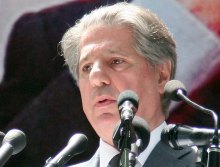 Former Lebanese president and current Phalange party leader Amin Gemayel praised in remarks published on Tuesday as "courageous" President Michel Suleiman's stance regarding Syria's violations of Lebanon's borders .
"This courageous stance is one of the leadership stances that the Lebanese people have longed for after they had been through difficult circumstances, during which the dignity of the nation was at stake," Gemayel told An-Nahar daily newspaper.
" Suleiman's stance is the first step taken by Lebanon toward regaining its full sovereignty," he added.
Gemayel's comments come after Suleiman on Monday accused Syria of violating the Lebanese territories. Suleiman's protest came after a house in the east of the country was hit by a blast and shells fell on the northern border.
Syrian troops have carried out a number of cross-border raids into Lebanon since the outbreak of the revolt against President Bashar al-Assad's rule in March 2011, sparking fears of a spillover of the conflict.