Shots fired from Egypt at Israeli troops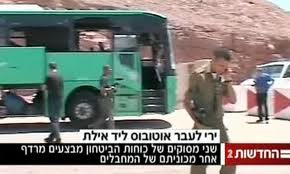 Gunshots fired across the border from Egypt on Sunday hit an Israeli army bus but caused no casualties, a military spokeswoman said.
The attack, in the central sector of the porous desert frontier, may heighten Israeli fears of an erosion of security in the Egyptian Sinai given the political upheaval in Cairo.
A Sinai pipeline built to supply Israel and Jordan with gas was blown up in a separate incident on Sunday, the 15th such sabotage since the start of a popular revolt that toppled the U.S.-aligned Egyptian president Hosni Mubarak in February last year.
Mubarak was succeeded by Mohamed Mursi of the Muslim Brotherhood, which is ideologically hostile to the Jewish state and linked to the Hamas Islamists who run the Gaza Strip, a Palestinian territory that also abuts Sinai.
Israeli Prime Minister Benjamin Netanyahu said in April that Sinai was becoming a lawless "Wild West," but his government has since signaled more confidence in the new Egyptian government's ability to restore order.
Last month, gunmen whom the Israeli military said crossed into Israel from Sinai fired on Israelis building a barrier on the border, killing one worker before soldiers shot dead two of the attackers.
An Egyptian security source said officials were still investigating what he described as "Israel's claims that a sniper opened fire from inside the Egyptian lands near Egypt's borders with Israel towards a bus carrying Israeli passengers."
Reuters