Hariri: Hope Ramadan will end suffering of Syrian people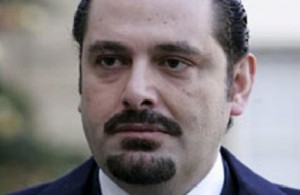 Former Prime Minister Saad Hariri said Saturday that he hopes the holy month of Ramadan would bring an end to the suffering of the Syrian people.
"I wish this Holy month will spell the end of suffering of the Syrian people at the hand of the brutal regime, and will mark the beginning of their victory on the way to freedom and dignity."
Commenting on the government's refusal to hand over the available evidence ( telecom data) on the suspects in the assassination attempts of March 14 leaders he said this is" unacceptable".
"This is simply unacceptable and requires that Lebanese authorities at the highest level take a stand on this critical national issue," Hariri said on Twitter
President Michel Suleiman headed a meeting at Baabda Palace to discuss the possibility of handing over of the telecommunications date to the security forces for help in the investigation of the attempted assassinations in Lebanon ,according to a report by LBC TV
Prime minister Nagib Mikati and concerned ministers attended the meeting .
March 14 MP Boutros Harb who was the target of an attempted assassination in early July told the Voice of Lebanon radio station on Saturday that the cabinet must hand over the required telecommunication data to the security forces in order to prevent a strife in Lebanon.
Last April Lebanese Forces leader Samir Geagea who also escaped an assassination attempt urged the government to hand over the required telecommunication data to the security forces in order to identify the culprits.
According to Harb, Mahmoud Hayek , a key member of Hezbollah and responsible for security and explosives is one of the suspects in the attempt on his life.