S.Arabia replaces intelligence head with ex-envoy to US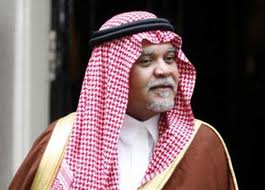 Saudi Arabia has replaced intelligence chief Prince Muqrin bin Abdulaziz with its former ambassador to the United States, Prince Bandar bin Sultan, the Saudi Press Agency said on Thursday, citing a royal decree.
Prince Bandar, who was the kingdom's envoy to Washington for 22 years, a period spanning the first Gulf War and the Sep 11 2001 attacks on the United States, takes the portfolio at a time when Saudi Arabia faces growing instability in its immediate region.
The world's top oil exporter and birthplace of Islam is locked in a struggle for Middle East influence with Iran as the rivals back opposing forces in Bahrain, Iraq, Syria and Lebanon.
"There was a feeling that we needed stronger intelligence and Bandar has a history of this sort," said Jamal Khashoggi, a prominent Saudi commentator with ties to the royal family.
"We are witnessing the start of a new Middle East with the collapse of the (Syrian President Bashar al) Assad regime. We are worried about Jordan and Lebanon," he said.
Bandar has headed Saudi Arabia's National Security Council for seven years but has shunned the limelight since leaving his Washington post in 2005.
"He's been close to that position heading the National Security Council and is very well aware of the intelligence apparatus. He's also been involved in Saudi security issues of the highest order for the last 10 years," said Robert Jordan, U.S. ambassador to Riyadh from 2001-03.
Jordan, who said he worked closely with Prince Bandar during that time, and described him as "the ultimate shuttle diplomat", said the appointment might help strengthen the alliance between Washington and its closest Arab ally.
Prince Bandar is a son of the late Crown Prince Sultan, who died last October and had served as defence minister for five decades.
In the sprawling ruling family, Sultan was one of seven brothers born to the kingdom's founder by his favourite wife and known collectively as the Sudairis, who formed the strongest power bloc in the House of Saud.
The kingdom's new heir apparent, Crown Prince Salman, is also a Sudairi, as is the new Interior Minister Prince Ahmed.
The royal decree carried by SPA said outgoing intelligence head Prince Muqrin, the youngest son of the kingdom's founder Abdulaziz ibn Saud, had been appointed a special envoy and adviser to King Abdullah, who is 89.
It added that Prince Bandar would retain his role as secretary general of the National Security Council.
Reuters