Up to 30,000 Syrians may have crossed into Lebanon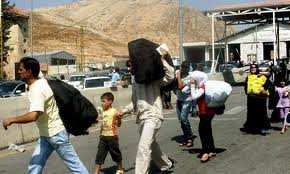 Up to 30,000 Syrian refugees may have crossed into Lebanon in the past 48 hours, in what would be a sharp increase of people fleeing fighting in the country, the United Nations refugee agency UNHCR said on Friday.
Syria's borders remain open, it said, but the agency was not able to confirm reports Syrian rebels took control of two major crossings on the border with Turkey and the main Abu Kamal post on the border with Iraq on Thursday.
"We have reports we are trying to verify that thousands of Syrians overnight and yesterday crossed into Lebanon. So far reports vary between 8,500 and 30,000 people who may have crossed in the past 48 hours," Melissa Fleming, chief spokeswoman of the U.N. High Commissioner for Refugees (UNHCR), told a news briefing in Geneva.
"Borders remain open. People continue to arrive in Turkey. People continue to arrive in Jordan. People continue to flood into Lebanon and increasingly into Iraq," she said.
About 80 buses carrying Iraqi refugees have crossed from Syria into Iraq in the last few days, Fleming added. "We've also heard reports that two Iraqi government airplanes came to Damascus to evacuate their citizens."
In all, 120,000 Syrian refugees fleeing the 16-month-old conflict had registered with the agency in Jordan, Iraq, Lebanon and Turkey as of Wednesday, according to the UNHCR. However, many more Syrians have entered these four neighbouring countries without applying for international protection, it says.
Panos Moumtzis, UNHCR regional refugee coordinator, told reporters earlier this week an average of 700 Syrians were fleeing their homeland each day, with the exodus rising to 1,000 on some days.
One million Syrians are also believed to be displaced inside the country as of last week, Fleming said. The figure came from the Syrian Arab Red Crescent whose previous estimate was that 500,000 were uprooted.
Refugees in Syria are also increasingly caught up in the violence, UNHCR said. "They are receiving calls threatening them, accusing them of siding with the government," Fleming said, noting that some had received death threats.
An Iraqi family of seven was found shot dead in their apartment in Damascus last week, while three other refugees were killed by gunfire, she said.
Thousands of refugees in Syria – Iraqis, Somalis and Afghans – have fled their homes due to the violence and "targeted threats" in recent days, she said.
About 2,000 refugees had taken shelter in the Damascus suburb of Jaramana in schools and parks, where they have been joined by "many Syrians" on the run.
Syrian banks are reported to be running out of cash and a rush to find safe housing has caused rents in some places to spike to $100 per night, she added.
"We've heard reports that many of the banks have just run out of money," Fleming said. "I just have a report from our staff that says state and private banks are reported to be out of funds. Whether this is all banks, I don't know."
"This is specifically relevant to the refugee population as reported but it's probably also affecting the Syrian population," she said.
Reuters