Landslides leave 22 dead, 5000 stranded in Japan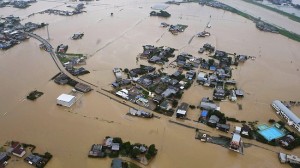 MORE than 5000 people have been cut off by landslides as more heavy rain and floods are forecast in southwestern Japan, where the death toll from torrential downpours has risen to 22.
Television footage today showed troops loading relief material such as food, water and medical supplies into military helicopters to send them to mountainous areas in Yame, Fukuoka prefecture in northern Kyushu island.
Local authorities were separately dispatching rescue helicopters to take patients and elderly villagers to hospital from the isolated area, where at least one person was killed, officials said.
More than 5400 people have been shut away since late yesterday as landslides and fallen trees have cut roads and water supplies in the region, where unprecedented rainfall has fallen since Wednesday.
"We will continue sending emergency rations to people there as it is still unknown when we can secure access to the area," said Kayo Shinohara, a spokeswoman for Yame City government.
"We are trying to do our best to remove rubble as soon as possible," the spokeswoman told AFP by phone.
Rescue operations resumed early today in other affected areas in Kyushu, where at least eight people were still missing after 22 people were confirmed dead in the landslides or floods, officials said.
Public broadcaster NHK showed rescuers continuing their search, using heavy machinery to remove uprooted trees, boulders and debris, while residents were scooping mud out of houses with shovels.
Some 3600 people remaining were ordered or advised to leave their homes in southwest Japan, NHK said, after local authorities lifted similar advice to some 400,000 others by this morning.
The weather eased somewhat on today bringing temporary relief, but the Japan Meteorological Agency warned of more heavy rain, landslides and floods on Kyushu.
"A peak of heavy rain in northern Kyushu has passed, but there is fear that driving rain with thunder may hit northern Kyushu," the agency said.
Rainfall up to 81.7cm has been recorded in Aso, which is at the foot of a volcano, where at least 18 people were killed and four others were still missing.
Heavy rainfall was also monitored in Kyoto, some 500km east of the affected areas in Kyushu, today, flooding more than 20 houses, news reports said.
About 20 people were temporarily trapped in the city as muddy stream broke a river bank following rainfall of nine centimetres per hour, but they were later rescued safely, the reports added.
herald sun