U.N. observers heading for site of Syria massacre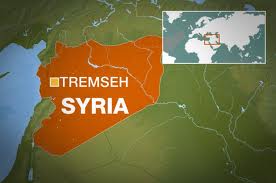 Beirut, Lebanon- United Nations observers are on their way to the central Syrian village of Tremseh, a U.N. spokeswoman in Damascus said on Saturday, two days after activists said some 220 people had been killed there by helicopter gunships and militiamen.
"We were informed yesterday that a ceasefire was granted in Tremseh. So we sent a patrol on a reconnaissance mission. The patrol assessed the situation," Sausan Ghosheh said in an email.
"We have sent a large integrated patrol today to seek verification of the facts," she said, adding that it consisted of both civilian and military experts.
Reuters