4 Palestinians shot dead at protest in Syria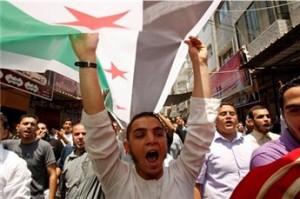 Four Palestinian refugees were killed and several others were injured after Syrian security forces opened fire at demonstrators in Al-Yarmouk refugee camp on Friday, sources said.
Palestinians in the Damascus-area camp told Ma'an that hundreds of refugees had taken to the streets to protest the killing of 16 Palestinians earlier in the week.
At the demonstration, Syrian forces opened fire on protesters, killing at least four, whom witnesses say suffered gunshot wounds to the upper body.
On Wednesday, 15 officers affiliated to the Palestinian Liberation Army in Damascus and their driver were found dead after they had been kidnapped en route to the Palestinian refugee camp Nairab near Aleppo several weeks ago, a Palestinian official said.
Palestinian refugees in Syria must do military service for one month in the Palestinian Liberation Army. The PLA was established as the armed wing of the Palestine Liberation Organization, but later integrated under Syrian military command and used to police refugee camps.
The group was returning from training in a military institute in Misayaf between Hama and Homs when a group of gunmen seized the bus, the head of the PLO's politburo in Damascus Anwar Abdul-Hadi said.
He said Palestinian officials in Syria were in touch with the leadership in Ramallah, and they had contacted the kidnappers who refused to provide a justification or release the group. The identity or affiliation of the kidnappers was not clear.
On Wednesday, Syria security notified Palestinian leaders that the officers were found riddled with bullet and stab wounds on the main road near Idlib, Abdul-Hadi said.
While Palestinian officials insist that refugees in Syria are not taking part in the conflict raging in the country, the bitter fighting between opposition and state forces has spilled into camps across Syria.
Palestinians in Syria told Human Rights Watch in June that Syrian security forces are detaining hundreds of people, including Palestinians, in the al-Yarmouk camp.
They said that thousands of Palestinians have recently fled the city of Homs and its suburbs because of the violence there, as well as from Daraa due to recent heavy shelling, and have sought refuge in al-Yarmouk.
The largest Palestinian refugee camp in Syria which is home 200,000 Palestinians, al-Yarmouk has also experienced a number of deadly incidents.
A Syrian security official threatened to raid the camp due to Fatah's alleged support of anti-Assad demonstrations, sources in the camp told Ma'an in March.
Days later, a vehicle belonging to the Palestinian Liberation Army in the camp was hit by an explosion that killed three people.
Last June, 14 Palestinians in the same camp were reported killed and another 43 injured after attacking the headquarters of leftist group PFLP-GC amid tensions between supporters and opponents of the Syrian regime, PA official news agency Wafa reported at the time.
Ma'an