Army interrogates 3 officers over murder of cleric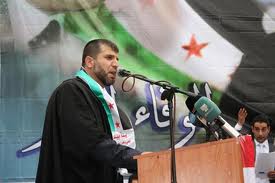 First Military Investigative Judge Riad Abu Ghida summoned again for questioning three Lebanese army officers implicated in the case of the killing of Sunni cleric Ahmad Abdel Wahed and his bodyguard in May, the National News Agency reported on Saturday.
The report added that the army officers were interrogated and were kept in custody after they had been arrested and released earlier in the month.
Army troops shot Abdel Wahed and his bodyguard dead in May when his convoy allegedly failed to stop at a checkpoint in North Lebanon.
His death sparked tension in many Lebanese areas where protesters blocked roads with burning tires. In Beirut, two people were killed in street battles in Tariq al-Jedideh following the incident.
Earlier in July, 11 of the 16 suspects, including military officers, were released.
Now Lebanon