Assir: 'I won't end protest until our demands are met'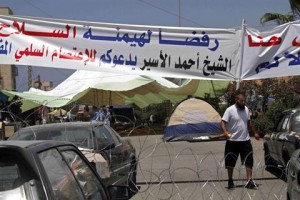 Sheikh Ahmad Assir defied calls Thursday to end his blockade of a vital highway linking Beirut with south Lebanon, as the city's business leaders grow increasingly impatient with the open-ended protest.
"I won't end the protest until our demands are met," Assir told The Daily Star from the northern entrance to Sidon, where he and his supporters have set up their camp.
His remarks came shortly after officials in the city urged the government to put an end to Assir's road blockade, threatening an open-ended strike if Assir fails to stand down.
In the latest move to fortify the open-ended protest, Assir's supporters erected a barbed wire fence around the site of the demonstration "to protect our women and children," after having received information that "Shabbiha," or pro-Syrian regime thugs, might attack those gathered.
Meanwhile, sources say they expect the protesters' ranks to swell when Assir's supporters from Tripoli arrive for Friday's prayers.
Representatives from Sidon's municipality, Chamber of Commerce, Industry and Agriculture, Merchants Association, Federation of Trade Unions and Employees as well as civil society groups met Thursday to discuss the road closures.
"We call on the Lebanese authorities to take full responsibility, lift the siege of [Sidon] as quickly as possible, and remove all manifestations that are offensive to the city of Sidon, its people, and its economic and national roles," said a statement issued at the end of the meeting.
"If our demands to deal with the situation are not met … we will find ourselves forced to take escalatory measures, including the declaration of a general strike," it continued.
After the meeting, Ali Sharif, the president of the Sidon Merchants Association, said, "We can't wait forever."
"We won't continue like this. It needs to be ended in a peaceful and civilized manner," he added, referring to the protest.
The sit-in by Assir and his supporters on Sidon's highway has hurt merchants' livelihoods and limited road travel between Beirut and Sidon to only two routes, causing congested traffic at weekends.
Assir, who began his protest against Hezbollah's arms June 28, is blocking the northern entrance to Sidon.
While the meeting was under way at Sidon's Chamber of Commerce, dozens of merchants took to the city's streets to protest the ongoing blockade of the Beirut-Sidon-south Lebanon highway.
The merchants, who say that Assir's sit-in has been damaging for business, demonstrated for two hours at the Elia crossroads near Sidon's Electricite du Liban headquarters.
The intersection links Sidon to Beirut and the south, and also serves as an exit to Jezzine.
The demonstrators brandished banners criticizing Assir for affecting their livelihoods with his protest.
In his comments to The Daily Star, Assir ridiculed the claims the merchants' have been making.
"I don't think the merchants are going to go bankrupt in 15 days or so," he said of his two-week sit-in.
"They should have held a protest when [Sayyed Hasan] Nasrallah drowned us in the sea for 33 days," he added, referring to Israel's war against Lebanon in July 2006.
Assir said Sidon was continuing to suffer the economic repercussions of that war, and added that the merchants' counter-protest represented "an attempt to salvage Hezbollah" warning that such attempts "will fail."
"Everyone who wants to end [my] protest should show solidarity with us and pressure Nasrallah and [Speaker Nabih] Berri to give serious guarantees to the president about discussing the issue of weapons" at National Dialogue, Assir said.
There was no immediate comment from Lebanese authorities on the Sidon issue.
Assir claimed to have obtained information and photographic evidence of the Army conducting drills in the Sarafand region, south of Sidon, designed to break up street protests.
"The exercises might be designed with us in mind," Assir said. "But we came here to die."
Asked to verify rumors that he would call off the sit-in on July 25 to coincide with a fresh round of National Dialogue, Assir said: "We shall continue with the sit-in unless we are informed by authorities that the party of resistance [Hezbollah] has accepted to discuss its weapons."
The Daily star