Lebanese farmers near Syria border want protection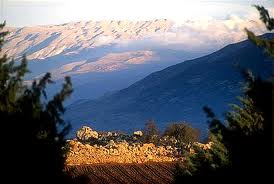 Lebanese farmers living along the border with Syria are demanding government protection following five nights of mortar attacks by Syrian troops fighting rebels.
But they say they are being ignored by Beirut, whose authorities and security institutions have a long history of collaboration with and domination by Damascus.
"There is no government here and no army," said Nour al-Deen Khouja, the local Mukhtar, or village elder, in the hilltop village of Dababiye, a mile from Syrian territory.
Among fig and pomegranate trees, Khouja described how Syrian mortars have exploded in his village from 11 p.m. every night since Sunday, scattering red hot shrapnel splinters in all directions.
So far, nobody has been wounded in his village. But months of sporadic Syrian mortar attacks have claimed more than 10 Lebanese lives in border areas.
"Two to five mortars normally land within the first 10 minutes, then one every half an hour throughout the night," he said on Thursday, squinting in the July sun.
Dababiye's 1,000 or so residents leave their homes every night to sleep with relatives or friends in safer areas.
They say the Syrians are targeting their farmlands because they suspect rebels of the Free Syrian Army are holed up there.
Syrian President Bashar al-Assad has been fighting a pro-democracy revolt in his Middle Eastern state for 16 months, with bullets and tanks. His forces have killed refugees fleeing the country and chased rebels into Lebanese territory.
"The attacks are no mistake," said farmer's wife Aida Zein al-Deen Mustafa in the shade of her a single-storey cinder block farmhouse. "But there is nothing here to bomb, just families," she added as her children ran around her.
Opposition groups say 17,000 Syrians have been killed in the revolt – largely waged by majority Sunnis living in rural areas – against Assad, who comes from the minority Alawite sect, an off-shoot of Shi'ite Islam. Dababiye residents are Sunni.
ORDERS FROM DAMASCUS
Turkey is the main haven for refugees and anti-Assad rebels who regularly cross into Syria to fight the army.
But Damascus has not fired mortars across the border with its powerful, well-armed northern neighbor, a member of NATO that has called on Assad to step down.
In Lebanon, however, Assad continues to exercise Syria's historic influence, despite the 2005 departure of thousands of Syrian troops and intelligence operatives from Lebanese soil. Many in north Lebanon say their army takes orders from Damascus.
When Syrian troops entered a few hundred meters (yards) into Lebanon's northern mountain area of al-Qaa in March and clashed with rebels hiding in the area, residents accused the Lebanese army of covering up the attack by blocking roads to the zone.
And after five people, including a 16-year-old girl, were killed on June 7 by Syrian mortar attacks on villages in Wadi Khaled, near Dababiye, the Lebanese government was muted.
Foreign Minister Adnan Mansour said the shelling was not intentional and he would not be filing a complaint with the United Nations.
"Had it been premeditated, we would have taken a different approach," Mansour said in remarks to the newspaper al-Joumhouria on Saturday. "Such clashes do take place on the border of any country due to unintentional mistakes."
Lebanon's leaders are at odds with each other over the Syrian revolt, with Shi'ite Muslim Hezbollah supporting Assad and others backing the opposition.
Most agree that Syria's crisis has the potential to destabilize Lebanon, a tiny country still recovering from its own 15-year civil war, which ended in 1990. Recent months have seen clashes between supporters and opponents of the uprising.
"From the beginning the Lebanese government made it clear that its policy regarding Syria is one of disassociation," said Hilal Khashan, a Lebanon-based political commentator, adding that Beirut is worried about being dragged into the conflict.
On June 11, rival Lebanese politicians did agree to give the army financial resources to try to prevent violence in Syria from spilling over the border. But there has not been a marked increase in army presence, locals say.
"Where is the army? Where is our security?" asks elderly Dababiye resident Muhammed Hussein Sabha, his farmhouse bearing the fresh scars of shrapnel from a Syrian mortar.
Reuters