Burns: Syria must respect Lebanon's sovereignty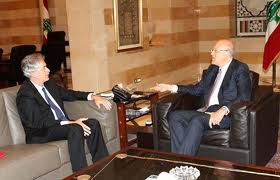 Syrian authorities must respect Lebanon's sovereignty, the US deputy secretary of state told reporters in Beirut on Friday, while expressing concern over a spillover of the bloodshed in Syria.
"We stress again the responsibility of the Syrian regime to respect Lebanon's sovereignty," William Burns told a news conference.
"The US also remains concerned that the Syrian regime's use of violence against its own people is contributing to instability in Lebanon," said Burns, in Beirut on a regional tour which has also taken him to Israel and the West Bank.
Referring to Syrian President Bashar al-Assad, Burns called for a "democratic transition to a post-Assad Syria, to a future that reflects the legitimate aspirations of the brave and determined Syrian people."
In the latest in a string of such incidents, Lebanon's army said "Syrian troops and armed men exchanged fire" across the two countries' border on Monday and that Lebanese territory was shelled, injuring several civilians.
AFP