UANI challenges Lebanon central bank chief Salameh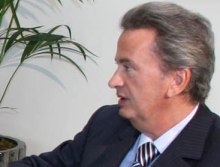 United Against Nuclear Iran (UANI) CEO, Ambassador Mark D. Wallace, issued the following statement Tuesday in response to the statement of Lebanon's Central bank Governor, Riad T. Salameh on UANI's concerns about the legitimacy of the Lebanese banking system:
Governor Salameh's statements that portray the Lebanese banking system (LBS) as legitimate are not credible. Our findings clearly show that the Lebanese Central Bank, Banque du Liban (BDL), has presided over a banking system controlled by Hizballah and illicitly used by Iran.
Governor Salameh no longer presides over a legitimate LBS, and the illicit funding of Hizballah by Iran through Lebanese banks provides the foundational support of the LBS deposit base. That deposit base is used by Lebanon to fraudulently support the greater Lebanese economy, Lebanese sovereign-backed securities, and the credit default swaps (CDS) that insure those securities.
Without such illicit Hizballah and Iranian monies flowing into Lebanon, Lebanese banks would be unable to purchase Lebanese sovereign debt. Without such purchases, Lebanese sovereign debt (and premiums on the CDS) would reflect the true realities of the dire politics of Lebanon and the enormous Lebanese debt-to-GDP ratio – the 4th highest in the world.
Governor Salameh faces tough questions that he may be unable to answer. We call on him to answer the following:
1. Do you disagree that Hizballah is the dominant political party in
Lebanon?
2. Do you disagree with Hassan Nasrallah when he said:
a. "By the same means that we got weapons and other stuff, money
came as well … All of this has been achieved through Iranian
money!" (Neil MacFarquhar in The New York Times, "Iran
Is Seeking Lebanon Stake As Syria Totters,", 5/24/12)
b. That Iran is the dominant financial supporter of Hizballah?
(Hurriyet Daily News, "Iran
Funds Hezbollah, Leader Nasrallah admits," 2/ 9/12)
3. Do you disagree with the statement that "While Iran continues to
provide a significant portion of Hizballah's funding, Hizballah
has also broadened its sources of financial support in recent
years. Hizballah is now heavily involved in a wide range of
criminal activity, including the drug trade and smuggling." (United
States of America v. Lebanese Canadian Bank SAL, et al., 11
Civ., at p. 19, 12/15/11)
4. Do you agree that the international community "cannot hope to
apply effective financial pressure against a group like Hizballah
so long as it maintains massive inflows of cash from a state
sponsor of terrorism, in this case the Iranian Government." ? (Adam
J. Szubin, Director, Office of Foreign Assets Control, U.S.
Department of the Treasury, Testimony before the Senate Committee
on Banking, Housing and Urban Affairs, 9/12/06)
5. Can you definitively say that BDL has not:
a. Transacted or held accounts with or for any Iranian institutions
or persons?
b. Transacted with the Iranian Central Bank, Bank Markazi?
c. Facilitated through the LBS the illicit Iranian support of
Hizballah and Iranian weapons sales and support of Hizballah and
Syria's illegitimate Assad regime?
Last week, UANI announced the results of a three month-long investigation into the influence of Iran and Hizballah in the Lebanese banking system (LBS) and Lebanon's sovereign bond market, and announced a campaign to compel legitimate financial institutions into divesting from Lebanon's bond market.
Click here to read the Daily Star article "Salameh: Banking sector abides by law." Click here to read the NOW LEBANON article "Flush with cash, Lebanese banks raise eyebrows." Click here to view UANI's research, "HIZBALLAH, LEBANON & IRAN: PARTNERS IN A SOVEREIGN MONEY LAUNDERING SCHEME." Click here to read UANI's May 28 letter to Riad Salameh. Click here to read UANI's May 28 letter to Lebanese bondholders. Click here to read UANI's May 28 letter to the world's leading bond credit agencies. Click here to call on the U.S. Government to Sanction the Lebanese Banking System and for Bond Holders and Credit Agencies to end Lebanon Business.
Market Watch