Egyptian parliament convenes in defiance of generals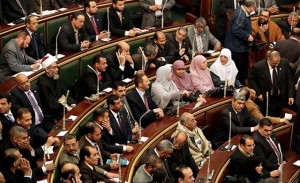 The Egyptian parliament convened for less than an hour Tuesday, in a gesture of defiance against the country's military rulers, who dissolved the legislature.
The lawmakers met after President Mohamed Morsy, who took office on June 30, opted to override the edict of the military who have run the country since the 2011 revolution that ousted the longtime strongman Hosni Mubarak.
Meanwhile, the Muslim Brotherhood, the country's leading political party, has called for a million-man protest Tuesday in support of Morsy's decision, said Ahmed Sobea, spokesman for the Freedom and Justice Party.
The military and Egypt's highest court, which ordered the dissolution of parliament, both stuck to their positions on the issue Monday.
The Higher Constitutional Court declared after a Monday meeting that its "ruling to dissolve parliament is final and binding." The court threw out the parliamentary vote in June, prompting Egypt's military to assume legislative power.
And the Supreme Council of the Armed Forces defended its stance, saying it had only acted on behalf of the court ruling.
"We are confident that all state institutions will respect what was issued in all constitutional declarations," SCAF said in a statement that was read by an anchor on state TV.
Despite their opposing positions, the likelihood of a full-blown, open confrontation between Morsy and the country's military rulers is low, said Monique El-Faizy, a project leader at the World Policy Institute.
Both sides have too much to lose and neither can can risk pushing the other too far, she said. The showdown will be of the Cold War variety, she predicted.
"I think it's the delicate balancing act that we're going to see for a while," said El-Faizy. "This is all new. Everybody's finding their way."
Showing no obvious signs of strain, Morsy appeared Monday alongside the head of the SCAF, Mohamed Hussein Tantawi, at a military graduation ceremony in Cairo.
Twenty-five cases have been filed by individuals protesting Morsy's decision to reinstate parliament, the court said.
On Tuesday, attorneys will be brought before the administrative court, which will decide on the cases. The court is the only one that can overturn a presidential decree.
"I expect the court to overrule the presidential decision tomorrow," Aly Hassan, a judicial consultant affiliated with the Justice Ministry, said Monday.
Morsy's recalling of parliament is likely to please his backers in the Muslim Brotherhood, which won the largest share of seats in parliament in elections this year.
Dozens of riot police and barriers have surrounded the parliamentary building, but guards there allowed lawmakers into the building Monday, Egypt's state-run Nile TV reported.
Morsy took the helm of a deeply divided nation that is economically strapped and lacks a working government. He quickly indicated that Egypt's legislative power would return to civilian hands — and while praising the generals, he said their job was "to protect the boundaries and security of the country."
Hassan said that as president, Morsy "has the authority to take any decision, regardless if it's right or wrong."
But he added, "Overturning the constitutional court ruling and reinstating parliament is against the constitution, especially that there is no appeal on such court rulings."
CNN