UN envoy Annan warns of possible Syria disaster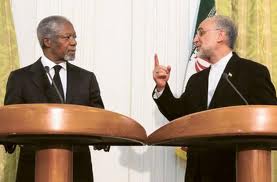 International envoy Kofi Annan is warning of a disaster if his peace plan for Syria fails but says he has received support from Iran to resolve the conflict peacefully.
Annan spoke after holding talks in Tehran on Tuesday with Iranian Foreign Minister Ali Akbar Salehi. He did not specify what support Iran has offered.
Iran is a staunch ally of Syrian President Bashar Assad's regime.
Annan is in Tehran a day after meeting with Assad in Damascus. The U.N. envoy says he has agreed on a new approach with Assad to stop the violence in Syria, which activists say has killed more than 17,000 people since the conflict began in March 2011.
fox news