EDL part-time employees block entrance to company HQ
The part-time employees of Electricité Du Liban (EDL) blocked the doors of the company headquarters in Beirut's Corniche al-Nahr on Monday morning demanding their wages, Voice of Lebanon radio station reported on Monday.
According to the report, demonstrators threatened to escalate the protest if they do not receive their wages by 9:30 a.m.
Meanwhile, the National News Agency reported on Monday that EDL part-time employees in the southern city of Tyre have been protesting in front of the company's building since 7:30 a.m. and have prevented other employees from entering the premises.
EDL part-time employees have been on strike for a while demanding their status be changed to permanent salaried employees .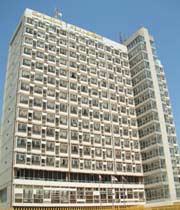 The MPs of the 3 Christian parties Change and Reform, Lebanese Forces and Phalange jointly boycotted a parliamentary session last Tuesday that dealt with the draft concerning the striking EDL hourly employees issue.
According to local reports the majority of the EDL part-time employees are Shiites and for this reason Speaker Nabih Berri, who is the leader of the Shiite Amal Movement wants to change their status to full-time employees. 1700 of the 2300 part-time employees are reportedly Shiites while only few hundred are Christians and the balance are Sunnis.
According to Taef accord Half of the full-time employees should be Christians while the other half should be divided between the Sunnis, Shiites and the Druze.
Speaker Nabih Berri told As Safir in remarks published on Monday that he is disgusted with the Lebanese situation..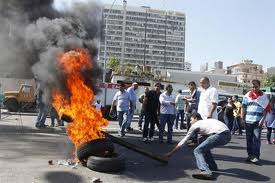 Lebanon government is currently dominated by the Iranian and Syrian backed Hezbollah militant group which according to observers may be capable of running a militia but has clearly demonstrated that it is not fit to govern a country as complex as Lebanon.
According to local reports Hezbollah supporters do not pay their electric bills and when bill collectors show up in their area they get threatened and beaten up. This is reportedly the main reason why Lebanon, which is heavily indebted has to subsidize the electricity company .