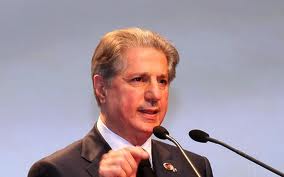 Former Lebanese president and current Phalange Party leader Amin Gemayel was quoted by the National News Agency as saying on Sunday that the current government is the "worst in the history of Lebanon."
"The solution for the country's problems starts with the government's resignation and with attempts to reconcile with the international community and to resolve the issue of non-state arms," the Former president said
.
Gemayel who said he did not fear political vacuum, added that the present government "is a void within itself."
He also called on the opposition, led by the Western-backed March 14 alliance, to embrace "solidarity and play the role of a political resistance."
The present government which is headed by Premier Najib Mikati is currently dominated by the Iranian and Syrian backed Hezbollah militant group
This error message is only visible to WordPress admins
Error: No connected account.
Please go to the Instagram Feed settings page to connect an account.