Hariri slams government 'silence' over Syria border killings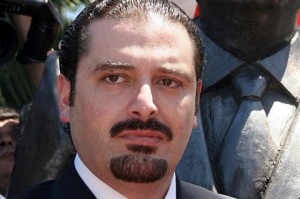 Former Prime Minister Saad Hariri said Sunday the government's silence in the face of the killing of two citizens by Syrian shells over the weekend is unacceptable, and accused it of having been appointed to facilitate such acts.
"The silence of the Lebanese Government is unacceptable. It shows total disrespect for the lives of our citizens and our sovereignty," Hariri said on his Twitter feed.
Two people, including an 8-year-old boy, were killed Saturday and 10 were wounded in north Lebanon in separate incidents as a result of shelling from the Syrian side of the border.
Earlier this week, Syrian forces briefly kidnapped two General Security personnel at the Bqayaa border crossing in the north of the country.
Hariri, who said yesterday's shelling was unacceptable, added that the least Prime Minister Najib Mikati's government could do is to file a complaint against Syria via its ambassador, the Arab League or even the United Nations.
"However the Lebanese are not surprised their government doesn't care if our citizens are killed and sovereignty violated by Syrian regime," he said.
"In fact all Lebanese know this government was appointed to facilitate such crimes to begin with," the head of the Future Movement added.
Hariri, who has been out of the country for over a year, has been a harsh critic of Mikati's government since the collapse of his government in January of 2011 and its replacement by the current Cabinet.
Meanwhile, the Future Movement held a ceremony in Majdalyoun in the coastal city of Sidon Saturday commemorating the passage of one year since the formation of Mikati's Cabinet.
During the ceremony, head of the Future Movement Parliamentary bloc MP Fouad Siniora slammed the government, describing it as incapable of overseeing the 2013 parliamentary elections and saying that it has a record of failures to its name.
"We cannot accept this government as it is incompetent, lax and turns a blind eye to killers; it is complicit with whoever is committing crimes and assassinations … We still see that the path is open for a salvation government before it's too late," he said.
Siniora added that the continual blocking of the transfer of telecoms data from the Telecommunications Ministry to security agencies is a decision "to kill all opposing" Hezbollah's arms and the government.
MP Bahia Hariri also spoke during the ceremony and voiced fear "over whoever is in government," saying: "They are our partners. They are strong and we want Lebanon to be victorious with them and not for them to be victorious over Lebanon."
"We declare our fear for the nation, the state, national unity, coexistence and legitimate institutions," she added.
Daily Star