Aoun says Jumblatt suffers from minority complex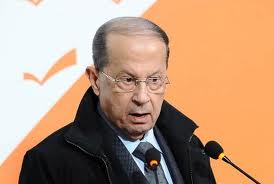 Free Patriotic Movement Leader MP Michel Aoun An-Nahar newspaper in remarks published on Sunday that Progressive Socialist Party leader MP Walid Jumblatt suffers from minority complex and is afraid of the Christians because they outnumber the Druze .
"MP Jumblatt attacks the FPM because we have popularity. He fears the Christians because they outnumber the Druze , and he also fears Sunnis and Shiites because he suffers from minority complex," Aoun said
Commenting on the issue of Hezbollah's weapons Aoun said this should be discussed after setting the national defense strategy.
"When we agree on a national defense strategy we can [then] know where the position of Hezbollah's weapons will be, whether it remains or not, or what its [role] will be, because setting a national defense strategy and withdrawing Hezbollah's weapons [simultaneously] can only lead to harming stability and national unity," he said.
Commenting on the situation in Syria, Aoun , who iss closely allied with the Iranian and Syrian backed Hezbollah militant group said that the US and Europe will lose the battle if they don't reach a compromise.
"If the US and Europe do not reach a compromise regarding the situation in Syria, their power in the Middle East will end," Aoun said.
World powers struck an agreement in Geneva on Saturday that a transitional government should be set up in Syria to end the conflict there but they remained at odds over what part President Bashar al-Assad might play in the process.
The talks had been billed as a last-ditch effort to halt the worsening violence in Syria but hit obstacles as Russia, Assad's most powerful ally, opposed Western and Arab insistence that he must quit the scene.
After the meeting, the United States and Russia contradicted each other over what that meant for Assad, who has ruled Syria for 11 years since succeeding his father Hafez and has been condemned internationally for the ferocity of his crackdown on the uprising against him.