Aljadeed TV questions Hezbollah over protection of station attackers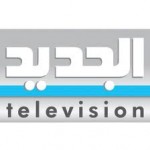 Al-Jadeed ( New ) TV on Thursday issued an open letter to Hezbollah Secretary General Sayyed Hassan Nasrallah questioning why his party was "protecting" the perpetrators who attacked the station earlier this week.
Unidentified masked men attacked on Monday evening the headquarters of Al-Jadeed television in the Beirut area of Wata al-Msaytbeh and burned tires on the TV station's property.
Later in the evening the TV station reported that the army's intelligence service arrested one of the assailants, identified as Wissam Alaeddine. The arrest sparked several protests in Beirut later in the week.
Al-Jadeed television officials have received death threats in the wake of the controversial interview with Salafist Sheikh Ahmad Assir, station officials said Wednesday.
Mariam Bassam and Karma Khayyat, from the news division, were targeted by telephone threats, a source from the station said
The TV station had last week interviewed controversial Sidon-based Assir, who warned Hezbollah leader Sayyed Hassan Nasrallah and Amal Movement leader Nabih Berri that he would confront them every day peacefully.
Security sources told LBCI television Wednesday that Alaeddine admitted during preliminary interrogations that his group's attack on Al-Jadeed was aimed at sending a message to the media, following Assir's remarks against Berri and Nasrallah.
Now Lebanon, agencies