Russia Slams Britain Over Syria-Bound Ship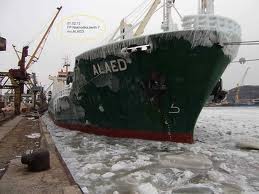 Russia has harshly criticized Britain for pressuring a Russian-operated ship heading to Syria with a load of weapons to turn back, saying that Moscow won't abide by European Union sanctions on the Arab state.
Russia has continued to provide its longtime ally Syria with weapons and diplomatic support despite the Syrian regime's violent crackdown on a popular uprising that began in March 2011.
Russian Foreign Minister Sergey Lavrov said Thursday that a British insurer's decision to remove the ship's coverage reflected the "unreliability of the British insurance system."
He told Ekho Moskvy radio the ship was carrying air defense systems and three refurbished helicopters to Syria, arguing the shipment was entirely legitimate.
Foreign Ministry spokesman Alexander Lukashevich says the ship is now heading to the Russian port of Murmansk.
ABC News