Assad could be offered clemency deal if he steps down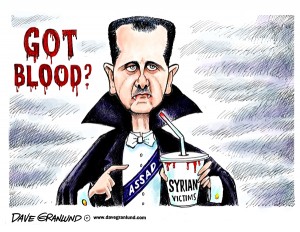 Britain and the United States have discussed offering Syrian President Bashar al-Assad immunity from prosecution if he steps down as part of a political transition package, reports said Thursday.
Britain's Foreign Office said there was "no new offer" on the table when asked to comment on the reports in several UK newspapers, which cited anonymous British government officials.
Discussion of a possible initiative came after US President Barack Obama and British Prime Minister David Cameron received encouragment from Russian President Vladimir Putin in talks at the G20 in Mexico, The Guardian reported.
Britain was ready to discuss clemency for Assad if it meant a Yemen-style transition of power conference could be arranged, possibly in Switzerland, reports said.
"Those of us who had bilaterals thought there was just enough out of those meetings to make it worth pursuing the objective of negotiating a transitional process in Syria," the Guardian quoted a senior British official as saying.
The Daily Telegraph said Assad could be offered safe passage to take part in talks in Switzerland.
The Independent newspaper said the peace conference could take place in Geneva at the end of this month, and said a clemency offer could involve Assad being allowed to flee to another country such as Russia or Iran.
A Foreign Office spokesman said: "There is no new offer. The longer the killing goes on, the fewer options Assad will have.
"But it is for the Syrian people, including the opposition, to decide the details of a transition including the options for Assad."
The spokesman added "we continue to do everything we can to bring an end to the violence in Syria. The way forward is to implement the Annan plan, to have international support for it in order to reduce the number of killings and the violence."
AFP