MP Gharios defends Minister Bassil's record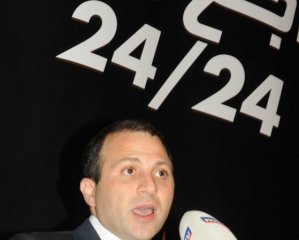 Free Patriotic Movement MP Naji Gharios  who is a member of the  Change and Reform bloc which is led by MP Michel Aoun  responded on   Monday  to Progressive Socialist Party leader MP Walid Jumblatt's verbal attack against Energy Minister Gebran Bassil :
"When they attack us, it means we are doing our job," Gharios told Al-Akhbar al-Yawm news agency.
He also said that his bloc was proud of what it had accomplished.
His comment comes after Jumblatt lashed out at the Free Patriotic Movement, holding it responsible for the electricity crisis in Lebanon.
Jumblatt referred to Bassil as  "the son-in-law of FPM's Sultan [Michel Aoun]."
According to analysts  Lebanon is witnessing the worst power blackouts ever . In Mount Lebanon areas which are classified as tourist resorts there are days where power is on for 3 to 4 hours a day and where blackouts can last as long as 12 hours in one stretch. This has reportedly outraged the tourists who are threatening to leave if the situation does not improve.
Many Lebanese citizens took to the streets to express their outrage over the power cuts. Several main roads were temporarily blocked with burning tires during  the past days. Beirut's airport road was also affected by the protests.
Photo:  Energy Minister Gebran Bassil  following his  ministerial appointment .  Bassil reportedly spent millions to promote 24/24 power in Lebanon, but according to local reports even tourist designated areas in Lebanon are not getting 4 hours of power a day .