Lebanon mayor calls for UNIFIL troops on Syria border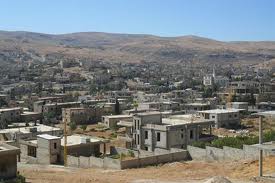 The mayor of the Bekaa town of Arsal Ali al Hujairi called for stationing UNIFIL troops along the border with Syria if the Lebanese army is incapable of protect the Lebanese citizens.
Hujairi told New TV following the killing of a Lebanese  citizen and wounding of two others  by the Syrian security forces on Wednesday: " We are capable of protecting ourselves but out of our respect  for the Lebanese army we would like it to deploy in Arsal to protect us ,  but  if incapable to do so then United Nations Interim Force in Lebanon ( UNIFIL ) should station its troops here".
There have been regular outbreaks of violence along the poorly demarcated and porous frontier between the Lebanon and Syria.
Damascus says weapons and fighters cross into Syria in support of rebels battling President Bashar al-Assad's forces, while Lebanese residents have accused Syrian soldiers of repeated infiltrations into Lebanon.
A month ago residents and a doctor in the Lebanese town of al-Qaa said Syrian troops killed a 75-year-old woman and wounded her daughter when they fired across the border.
In April a Lebanese television cameraman was killed by gunfire from Syrian troops across the border, and shells have also landed inside Lebanon in the past.