Future: Assad hasn't given up on setting Lebanon on fire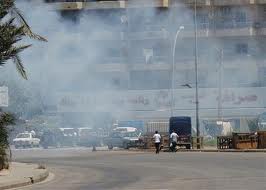 Well informed sources in Future Movement commented to An Nahar about the clashes in Tripoli between Bab al Tebbaneh and Jabal Mohsen by saying:
"What happened in Tripoli on Saturday clearly demonstrates that (Syrian president Bashar al ) Assad has not given up on setting Lebanon on fire, but in the end he is bound to fail."
At least twelve people were killed and more than 50 people were wounded Saturday in clashes between supporters and opponents of Assad in the northern Lebanese coastal city of Tripoli as security forces intervened to restore order, National News Agency ( NNA) reported on Saturday.
Six of the wounded are in critical condition according to security sources. Some of the wounded are from Bab al-Tebbaneh, a mostly Sunni community and some are from Jabal Mohsen, a mostly Alawite community that is backed by Hezbollah and supports Assad who is also a Alawite.