Gunmen kidnap 2 U.S. tourists in Egypt's Sinai region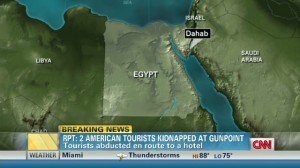 Gunmen kidnapped two American tourists Thursday in Egypt's Sinai region and demanded the release of a man arrested a day earlier for drug possession, authorities said.
The tourists, both 31, were in a car headed to a hotel from the town of Dahab when they were stopped, state-run Ahram newspaper said.
The U.S. Embassy in Cairo said it is aware of the kidnapping.
"We are working closely with Egyptian authorities to resolve this situation," said Katherine Sweet, an embassy spokeswoman.
Government and intelligence officials are negotiating with the kidnappers to free the tourists, said Marwan Mustapha, a spokesman for the Interior Ministry.
The gunmen forced them out of the car and took them away, demanding the release of a man named Eid Suleiman Etaiwy, the newspaper report said.
Etaiwy was arrested Wednesday with "a large amount of drugs" on him, the report said.
Kidnappings and daylight armed robberies have become increasingly common in the turbulent year since Egypt's long-ruling dictator Hosni Mubarak was overthrown.
The Sinai is one of the most underdeveloped areas in the country, and Bedouins have long complained of nonexistent government services.
In February, two American tourists were briefly kidnapped in the region. The kidnappers demanded that some detainees be released, but it is unclear whether these calls were met.
In January, 24 Chinese workers and a translator were kidnapped by Bedouins while on their way to a military-owned cement factory.
A group of armed Bedouins had blocked the road they were traveling and wanted the Egyptian government to release prisoners.
The hostages were released a day after Egyptian authorities intervened, China's state-run Xinhua news agency said.