Syrians kill another Lebanese man inside Lebanon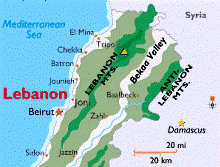 Syrian troops early Tuesday shot dead a Lebanese man and wounded three others in the country's eastern border region, a security official said, amid claims they were gunned down while hunting rabbits.
"Syrian soldiers opened fire at 00:30 am (2130 GMT Monday) on a farmhouse in Al-Qaa region, killing one person and injuring three others," the Lebanese security official told AFP, speaking on condition of anonymity.
The man's body was transported to his home town Arsal, near Al-Qaa, he said.
A local official, Ali al-Hojairi, said the Syrian soldiers were on Lebanese soil when they opened fire. He added that the four Lebanese were out hunting rabbits when they were hit.
In similar shootings in the past, Syrian forces have said they were targeting armed rebels and people crossing illegally into the strife-torn country from Lebanon.
On Apr.9, Al-Jadeed satellite television channel said Syrian soldiers shot dead its cameraman Ali Shaaban, insisting troops opened fire on the TV crew while they were on the Lebanese side of the border.
Lebanon and Syria share a 330 km (205 mile) long border, with no official demarcation at several points.
Syria has planted landmines along its border with Lebanon to prevent weapons from flowing into the embattled country and to stop people from fleeing illegally.
An estimated 24,000 Syrians have sought refuge in Lebanon, mostly to the northern region of Wadi Khaled, after Syria's regime began using force to crush a popular uprising when it erupted in March last year.
The Syrian Observatory for Human Rights says more than 13,000 people have been killed in the Syrian violence.
Times on Line