Activist says Lebanese hostages are Hezbollah members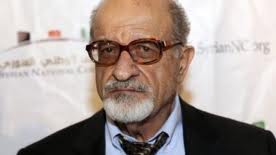 Syrian Human rights activist Haitham al-Maleh said in remarks published in As-Sharq al-Awsat newspaper that the Lebanese men who were taken hostage in Syria last week would not have been abducted if they had not been Hezbollah members.
"The men would have not been abducted if they had not been Hezbollah members and if jamming devices and binoculars had not been found with them . I gave my opinion on the matter, which is not to not release ," Maleh said.
Maleh, the former Syrian National Council leader called on Hezbollah "to stop sending fighters [to Syria] to help the regime commit massacres," adding that he expected the issue of the hostages will "to take time before it comes to an end ."
The case of the Lebanese hostage in Syria is raising fears of renewed street battles in Beirut as Lebanon increasingly gets drawn into the swirling chaos next door. The Syrian crisis already has spilled across the border into Lebanon over the past three weeks, sparking deadly violence in a country that remains deeply divided over the 15-month-old uprising against Syrian President Bashar Assad.
The Lebanese men were on their way back from a pilgrimage in Iran on May 22 when gunmen intercepted their buses in the northern Syrian province of Aleppo, according to the women on the pilgrimage who were allowed to go free and arrived in Lebanon hours later.