Top U.S. Middle East diplomat to retire next week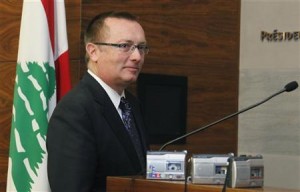 Jeffrey Feltman, the top U.S. diplomat for the Middle East, will retire next week, the State Department confirmed on Tuesday but did not address reports he is expected to take up a senior U.N. position.
Sources told Reuters on Monday that Feltman, the assistant secretary of state for Near Eastern affairs, was expected to replace Lynn Pascoe, another career U.S. diplomat, as U.N. under-secretary-general for political affairs.
In that position, Feltman would help to formulate U.N. policy in negotiations on the Middle East peace process and other conflicts and to oversee U.N. mediation efforts.
"Assistant Secretary Feltman has advised Secretary Clinton … that he plans to retire at the end of the month and that he is going to be pursuing other opportunities," State Department spokeswoman Victoria Nuland told reporters.
Nuland declined comment on who President Barack Obama might nominate to succeed him, but said that Feltman's chief deputy, Elizabeth Dibble, would "will steer the ship in the interim."
Dibble has previously served as deputy assistant secretary of state for European and Eurasian affairs responsible for U.S. relations with the European Union and Western Europe and as the deputy chief of mission at the U.S. embassy in Rome.
She also has extensive experience in the Middle East, having worked as deputy assistant secretary of state in the Bureau of Near Eastern affairs responsible for U.S. relations with Israel, the Palestinian Authority, Egypt, Jordan, Lebanon and Syria.
She has also been director of the bureau's Office of Peace Process and Regional Affairs and foreign assignments included Damascus, Islamabad, Tunis and London.
Reuters