Three Lebanese men killed in Iraq bus bombing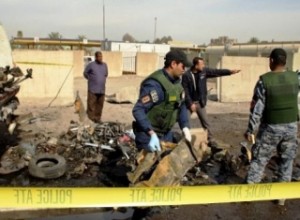 A roadside bomb exploded near a bus carrying Lebanese Shiite pilgrims in a Sunni area of western Iraq on Wednesday, killing three and wounding 10 others, police and medical sources said.
"A roadside bomb exploded in the Khamsat Kilo area as a bus carrying Lebanese pilgrims… passed on the highway, killing three of them and wounding 10," a first lieutenant in the Anbar provincial police said, referring to an area west of the provincial capital Ramadi.
A medical source at a mortuary in Ramadi confirmed the death toll, saying that it had received the bodies of three men.
A lieutenant colonel in the Ramadi police said there were around 40 Lebanese Shiite pilgrims on the bus, among them women and children, who were headed to Shiite holy sites.
Iraq is home to some of the holiest sites in Shiite Islam, to which hundreds of thousands of pilgrims flock each year. Pilgrims are periodically attacked, often by bombs.
Brutal sectarian fighting tore across Iraq beginning in 2006, leaving tens of thousands of people dead.
While the violence was brought under control by a U.S. troop surge and by Sunni tribesmen switching sides to fight against insurgents, sectarian tensions in Iraq remain high.
Al Arabiya