Travel advisories by GCC states surprise Lebanon PM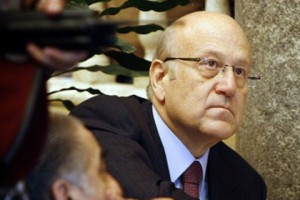 Prime Minister Najib Mikati expressed his surprise over the travel advisories by a number of Arabian Gulf countries restricting travel to Lebanon, National News Agency reported on Saturday.
"There is no practical justification for [this warning] because the security situation in Lebanon is good and the events [in Tripoli] were resolved and under control," Mikati who is from Tripoli was quoted as saying.
He also voiced hope that Bahrain, Qatar and the United Arab Emirates reconsider their decision and requested Foreign Affairs Minister Adnan Mansour, who is present in Doha to follow up on the issue with the Qatari authorities.
The United Arab Emirates, Qatar and Bahrain on Saturday urged their citizens to avoid travel to Lebanon, where clashes linked to the conflict in neighboring Syria have left 10 people dead.
Background
This development comes after clashes erupted a week ago in the northern capital Tripoli between the rival neighborhoods of mostly Sunni Bab al-Tabbaneh and the mostly Alawite Jabal Mohsen.
The clashes left 10 people dead and over 100 wounded and sparked fears that the revolt sweeping Syria since March of last year could spill over to Lebanon.
Ever since the uprising against Syrian President Bashar Assad began last March 15, 2011, Tripoli has become a safe haven for activists and thousands of refugees fleeing the violence ( Torture, rape, sexual abuse, killings and other human rights violations) that has left more than 12,000 people dead, according to a rights group.
The Lebanese government is currently dominated by Hezbollah which supports the Syrian regime in its brutal crackdown against the pro democracy protesters.
Syria's protests started peacefully 14 months ago, but a government crackdown spawned violence that has left thousands dead and prompted some military defectors to take up arms against the regime forces. The government has consistently blamed the violence on "armed terrorists."
Minister Ghosn who was the first to announce the presence of al Qaeda in Lebanon( despite strong denials by Interior Minister Marwan Charbel) is a member of the Marada movement which is headed by MP Suleiman Franjiyeh , a close ally of Hezbollah and president Assad.
Tourism is the most important source of revenue for Lebanon. The action by Gulf Cooperation Council countries is a blow to the tourist industry which counts heavily on tourists from these countries.