Aoun sues Geagea, others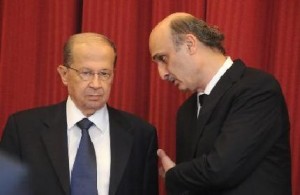 Free Patriotic Movement leader MP Michel Aoun filed a lawsuit against Lebanese Forces leader Samir Geagea over his recent statements on the political assassinations in Lebanon since 2005, FPM press office revealed on Saturday in a statement
According to the statement, Aoun also filed a lawsuit against the Central News Agency ( al Markaziyeh) , Lebanese Forces' website and al-Mustaqbal newspaper for misleading the judicial investigation for inciting a sectarian strife.
The lawsuit is in response to Geagea's statement to Al-Markaziya news agency on May 16, 2012 in which he held Aoun 'ethically and morally responsible' for the political assassination attempts since 2005 until today," the FPM's statement said.
Background
On April 4 the Lebanese Forces leader survived an assassination attempt when he was shot at by "snipers" as he was walking with bodyguards outside his residence in Maarab. The bullets reportedly left holes in the wall of his house.
Earlier this month Geagea said that "Hezbollah and the leadership of the Free Patriotic Movement are either [directly or indirectly] involved in the assassination attempt" against him "by misleading the investigation and helping the perpetrators."
Last month Geagea told al Arabiya that the rival camp ( Hezbollah -led March 8 ) and its regional backers ( Iran and Syria) "has an interest" in eliminating him from the political scene adding that his "attempt to put the Christians at the heart of the Arab Spring ( specially in Syria) is an additional factor in the assassination attempt" that he survived