Saudis holding union talks with Bahrain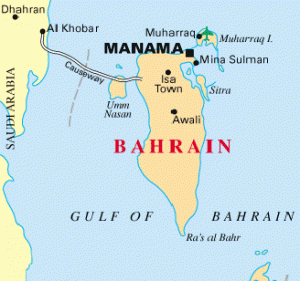 Saudi Arabia and Bahrain discussed a political union at a meeting in Riyadh yesterday in a development that could see the tiny Gulf kingdom largely absorbed by its neighbour.
Critics of the deal, the details of which are yet to be made clear, say it might affect the line of succession in Bahrain where the Sunni al-Khalifa royal clan has been split on how to respond to demands for democratic reform from the Shia majority.
Saudi King Abdullah has previously called for unity of all six Gulf monarchies, but in practice, only Bahrain is likely to be affected. A Saudi-led force of 1,500 troops crossed the causeway from Saudi Arabia to Bahrain last year to help crush mostly Shia protesters demanding democratic change.
"Saudi leaders don't want the present crown prince to succeed the King," said Ali al-Aswad, a leading member of al-Wifaq, the main opposition party. Crown Prince Salman bin Hamad al-Khalifa, who has been the main advocate of political reform within the royal family, is in Washington where he has had talks with Secretary of State Hillary Clinton, Defence Secretary Leon Panetta and other senior officials.
The US and UK have been backing King Hamad and Prince Salman against hardliners in the royal family led by the Prime Minister for 40 years, Khalifa bin Salman al-Khalifa, who is close to the Saudis. At the same time, they recognise that Bahrain falls within the Saudi sphere of influence.
Bahrain already depends on Saudi Arabia's Abu Safah oil field for 70 per cent of its government revenue. But two thirds of Bahrain's 600,000 citizens are Shia. Their long struggle for a fair share of political power is likely to be stifled by a closer union with Saudi Arabia. Despite mass arrests, torture and the sacking of Shia employees last year, the Bahraini security forces have been unable to stop protests in Shia villages and suburbs of the capital, Manama.
Saudi and Bahraini leaders have justified the need for closer links by citing the threat from Iran, and its support of fellow Shia in Bahrain, though there is no evidence of Iranian involvement in the protests. Mr Aswad believes a motive for the Prime Minister in seeking union with Saudi Arabia is to counter-balance the influence, not of Iran, but of the US, whose Fifth Fleet is based in Bahrain.
The Prime Minister, Prince Khalifa, described the Bahraini opposition as "a terrorist group" in an interview last month with Der Spiegel. He said: "This movement is supported by Iran and Hezbollah. What we are facing is exactly what the Americans are facing with terrorism."
Political union between Saudi Arabia and Bahrain is unlikely to be welcomed by other members of the Gulf Cooperation Council meeting in Riyadh yesterday. They see their own independence as potentially jeopardized by greater Saudi influence. Saudi Arabia, for its part, has been shaken by the takeover of Iraq by Shia political parties after the US invasion in 2003 and the overthrow of its close ally President Hosni Mubarak in Egypt in 2011.
Closer links between Saudi Arabia and Bahrain are likely to heighten hostility between Sunni and Shia across the Middle East.
Independent