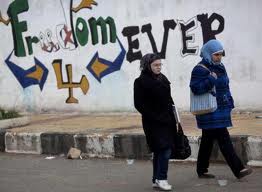 In the rolling blue hills and lush olive groves of the north Syrian countryside, a fledgling rebel state is forming, as opponents of Bashar al-Assad's regime attempt to take control.
The winding roads are criss-crossed with regular Free Syrian Army (FSA) checkpoints and although some are simply lines of rocks scattered across the road, others have kiosks painted with the colours of the opposition flag. Plain-clothes FSA men co-ordinate with short-wave radios, checking the roads ahead are clear and searching passing vehicles for weapons and regime forces.
"The army can't come to here," said Abu Mari, an FSA commander, recently returned from 30 years in exile. Driving through the streets of these villages, he receives salutes of recognition. He openly carries a gun, its butt taped with the colours of the new Syrian flag.
At the secret headquarters of the al-Haq brigade, hidden in a cave complex in the mountains, he outlined the plans for a future free zone here, modelled on the area around Benghazi in last year's Libyan war. "First thing, we make checkpoints," he explained. "Anyone who is working with the government, we capture him."
"Idlib is our Benghazi," agreed the dozen or so men slouched on the Persian carpets and cushions that lined the rocky walls and floor of the cave. A mix of army defectors and local volunteers, they're part of a brigade of armed men. Their headquarters is equipped with a satellite dish powered by a stolen generator and routed through neighbouring Turkey. There's satellite television and high-speed wireless internet. But it's a long way from the Libyan safe haven protected by Nato air strikes, which was the springboard to the overthrow of Muammar Gaddafi.
In the nearby villages of Kili and Hazano, hundreds of torched homes reveal the inability of the people to protect themselves from a fully fledged government assault. When these villages were attacked in April, all the fragile FSA network could do was to tell people when to run away.
But as soon as the tanks trundle away, the rebel state reappears. The emerging safe haven says more about Syrian regime weakness than rebel strength. Driving through one village, this reporter was startled to see regime tanks. "We are safe here," the local rebel commander repeatedly reassured. "They can't move," he explained. "They're guarding a bank."
It looks like the clumsy violence and intimidation of a regime is increasingly pitted against a more nimble insurgency which enjoys overwhelming public support in this area. There are a few guns, purchased from the Turkish mafia and disenchanted regime soldiers, prepared to deal in weapons to make some cash.
But the brigades in Idlib say they lack the heavy weapons they need to take on the regime's tanks and helicopter gunships. In their absence, the men were learning how to build bombs. Without the funds for weapons, improvised explosive devices and bomb attacks may prove to be the FSA's most effective tactic in what threatens to develop into a long, attritional civil war.
Moreover, the Damascus regime still lurks in the shadows. In the warm night air of one village near the Turkish border, a group of 50 children and young men staged one of their regular anti-government demonstrations outside the village mosque. But away from the carnival atmosphere on the streets, there was a lingering sense of fear.
"There are secret police here but they don't show themselves," said Abu Ahmed, a moustachioed man in his fifties who sat with two of his brothers in their courtyard garden. "We don't know who they are but we know they are here because when we do things, the government knows about it."
Independent
This error message is only visible to WordPress admins
Error: No connected account.
Please go to the Instagram Feed settings page to connect an account.