Lightning strikes Hollande's plane on way to Berlin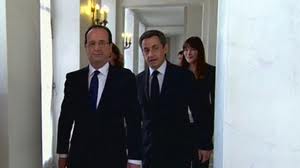 There's a metaphor in here somewhere: As spanking-new French President Francois Hollande headed to Germany on Tuesday for a possibly contentious meeting with German Chancellor Angela Merkel to discuss how to save the Eurozone, his plane was struck by lightning.
Less than an hour after being sworn in at the Elysee Palace in Paris, the heavens opened for an afternoon of clouds, heavy rain, hail and even snow in some parts of France.
Shortly after Hollande left for his very first international engagement, his Falcon 7X plane was forced to turn around and return to the Villacoublay military base in France.
A second plane was found and Hollande left for Germany, an hour later than expected.
Hollande, 57, became France's 24th president at a swearing-in ceremony earlier in the day. Before leaving for talks with Merkel, the new president said he he hoped the pair could "find solutions together so that austerity is not a fatality."
Merkel believes that reining in public spending and austerity is the answer to Europe's devastating debt crisis. Hollande believes the solution lies in investment and spending to boost growth.