Egyptian presidential debate, a step toward democracy
Egypt's top two presidential candidates faced off last night in the first presidential debate in the nation's history, giving Egyptians a chance to watch a contest that would have been unthinkable under former president Hosni Mubarak.
The candidates – Amr Moussa, a former foreign minister for Mubarak turned Arab League chief, and Abdel Moneim Aboul Fotouh, a former Muslim Brotherhood leader – each sought to use the other's background as a point of attack, underscoring a main fault line in the race: Islamists versus figures from Mubarak's regime.
Some Egyptians saw the debate as another step on Egypt's path toward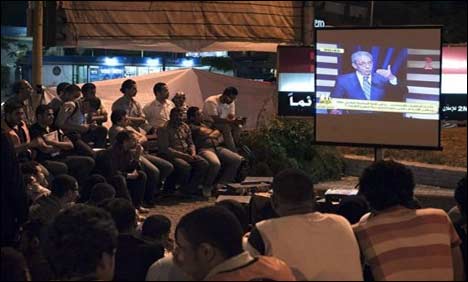 acy after ousting Mubarak in a national uprising last year. "It was a beautiful thing," Muharram Fouad, a Cairo taxi driver, says of the debate. "Mubarak never debated anyone. Now we have democracy, and freedom."
During Mubarak's nearly three-decade rule, referendums were held in which his was the only name on the ballot. In 2005, he allowed a multi-candidate election for the first time, but it was seen as fraudulent. Egyptians will vote for the first president to succeed him on May 23 and 24, with a runoff vote in June if no candidate wins an outright majority.
Last night Egyptians gathered around televisions at home and in cafes to watch the four-hour debate, which was presented with much fanfare by the two private satellite channels that hosted it. The abundance of lengthy advertising spots indicated that the channels expected a large audience. Dramatic music played as the debate began, and moderators emphasized the historic nature of the event. In the hour-long run-up, hosts explained that the format was based on US presidential debates, and broadcast part of the 1960 Nixon-Kennedy debate.
Absent from the contest were the 11 other candidates, including Muslim Brotherhood candidate Mohamed Morsi.
The exchange between Mr. Moussa and Mr. Aboul Fotouh, who are considered the frontrunners, became heated at times. Aboul Fotouh sought to portray Moussa as a member of the former regime, and Moussa brought up Aboul Fotouh's background in the Muslim Brotherhood and shot him questions about religion in an attempt to stir doubt in those wary of political Islam. "My point of reference is the nation. Your point of reference is the Brotherhood," Moussa said at one point. Aboul Fotouh said "The one who created the problem cannot solve it."
They also discussed the role of sharia, or Islamic law, in the state; the military's position in politics; and Egypt's peace treaty with Israel, which both promised to review.
Aboul Fotouh, a reformist within the Brotherhood who was expelled last year when he went against the group's leaders to announce his presidential bid, appealed to revolutionary types who participated in or supported Egypt's protests, even as he sought to placate the ultraconservative Islamists who have endorsed him in a strategic move against the Brotherhood.
Moussa, who was widely popular during his tenure as foreign minister for his hard stance on Israel, appeared to aim his rhetoric at those who are tired of ongoing unrest and protests and crave stability.
That resonated with Mr. Fouad, who says he will vote for Moussa because of his long experience and expertise. "He knows what he's doing. Aboul Fotouh still doesn't have a lot of experience," Fouad says. "The whole world knows Amr Moussa, and loves him."
Recent polls show that nearly half of Egyptians have not yet made up their minds on who to support.
The style of the debate, which sometimes strayed from substance to personal attacks, may not have helped Egyptians make up their minds. Ashraf El Guindy, who watched part of the debate, says it didn't help him decide. "You can't tell who is right and who is wrong," he says, criticizing the way the two argued and traded barbs. "This is something new for us, and a lot of people are still confused."
CSM