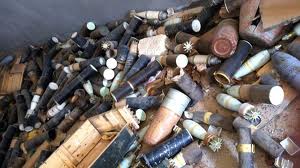 An Egyptian police official says security forces have confiscated dozens of heavy weapons seized from smugglers near the Libyan border.
The official says the weapons include 40 missiles, 17 rocket-propelled grenade launchers, mortar rounds, automatic rifles and around 10,000 artillery shells.
Authorities uncovered the weapons Thursday in three vehicles near the city of Marsa Matrouh, 430 kilometers (270 miles) northwest of Cairo on the Mediterranean coast. The official says three drivers were arrested.
He spoke on condition of anonymity because he was not authorized to brief the press.
In March, Egyptian security officials said that thousands of weapons are flooding into the country from neighboring Libya following the country's civil war.
According to an article by David Ignatius in the Washington Post , former Libyan leader Muammer Gaddafi had acquired 20,000 missiles but only 5,000 of them had been secured through a $40 million U.S. program to buy up loose missiles, the rest are still on the loose
Washington Post/ AP
This error message is only visible to WordPress admins
Error: No connected account.
Please go to the Instagram Feed settings page to connect an account.