Turkey refuses to extradite Iraqi VP Hashemi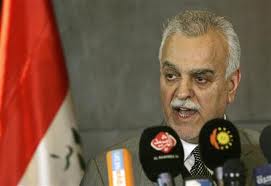 Turkey will not extradite Iraq's Vice President Tareq al-Hashemi, who is being tried in absentia in Baghdad accused of running a death squad, a senior official was quoted as saying on Wednesday.
"We will not extradite someone whom we have supported since the very beginning," deputy prime minister Bekir Bozdag was quoted as saying by the Anatolia news agency.
His comments came a day after Interpol issued an international Red Notice for the arrest of Hashemi, one of Iraq's top Sunni Arab officials, on suspicion of "guiding and financing terrorist attacks".
"(Hashemi) is currently in Turkey for health reasons," Bozdag said.
Hashemi, who has been staying in Istanbul since April 9, insisted in a statement posted on his website Tuesday that he was not above the law and was ready to appear in court if his security and a fair trial could be guaranteed.
Last week, Hashemi's trial was delayed to May 10 after his lawyers called for the case to be heard in a special court.
Hashemi and his bodyguards face around 150 charges, including the killing of six judges and other senior officials, according to an Iraqi judicial spokesman. He has challenged the legitimacy of the trial and said his life is at risk in Baghdad.
Interpol said the red notice, its highest possible alert, was issued following an Iraqi warrant made "as part of an investigation in which security forces seized bombing materials and arrested individuals".
"It is of course important that Hashemi is named among those wanted by Interpol but we also have demands of the Iraqi government," said Bozdag.
"The terrorist organization and its supporters are there… We also want them but so far we have been unable to get a positive response from the Iraqi government," he said, referring to leaders of the outlawed Kurdistan Workers' Party (PKK) holed up in northern Iraq.
Ankara has long demanded that Iraq prevent the PKK from using its territory, halt all rebel activities, limit their movements, close down their camps, cut off logistic support and hand over their leaders to Turkey.
Listed as a terrorist organization by Turkey and much of the international community, the PKK took up arms for Kurdish independence in southeastern Turkey in 1984, sparking a conflict that has claimed some 45,000 lives.
Al Arabiyah