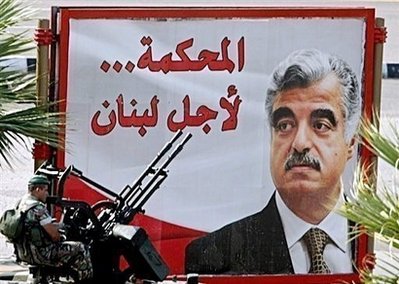 Defence lawyers before a UN-backed court probing former Lebanese premier Rafiq Hariri's murder sought Wednesday to have the tribunal's creation declared illegal and unfit to judge their clients.
Lawyers for Salim Ayyash — one of four Hezbollah men wanted for trial in connection with Hariri's car bomb death in 2005 — asked "the trial chamber to find that the establishment of the court was not legal."
"As a result, the trial chamber does not have the jurisdiction to hear the indictment brought against Mr Ayyash and his co-accused," they said in papers filed before the Special Tribunal for Lebanon (STL).
The Hague-based court in early February said it would put Salim Ayyash, Mustafa Badreddine, Hussein Anaissi and Assad Sabra on trial for Hariri's death and arrest warrants have been issued for the four — but they remain at large.
Lawyers for Badreddine, Anaissi and Sabra have filed similar documents, a source close to the case, who asked not to be named, told AFP.
Lawyers for Badreddine, described as the "brains behind the operation" that killed the billionaire politician and 22 others including a suicide bomber on February 14, 2005 said they doubted the court's ability to try their client.
"Having been established in an illegitimate and unconstitutional (manner)… the STL cannot give the accused a fair trial," they said in a statement.
Last month, STL judges turned down prosecutors who asked to add a charge of "criminal association" to the initial indictment against the four members of the Hezbollah Shiite group who are being tried in their absence on listed charges of conspiracy to commit a terrorist act and homicide.
Hezbollah leader Hassan Nasrallah has dismissed the STL as a US-Israeli conspiracy and vowed that no member of his group would ever be found or arrested. Hezbollah denies involvement in the Hariri attack.
The STL is the only international court that has a mandate to try suspects in absentia.
Created by a 2007 UN Security Council resolution at Lebanon's request, the STL opened its doors in 2009 and is tasked with trying those suspected of responsibility for Hariri's assassination.
Expatica