Hezbollah accuses US of blocking Iran donations to Lebanon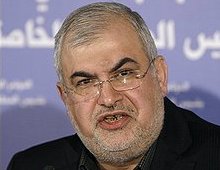 Hezbollah officials MP Mohammad Raad and Deputy Secretary-General of Hezbollah Sheikh Naim Qassem have accused the US of dispatching US Assistant Secretary of State for Near Eastern Affairs Jeffrey Feltman to Beirut to prevent Lebanon from signing agreements with Iran.
The visit to Beirut last week of Iranian Vice-President Mohammad Reza Rahimi coincided with Feltman's official visit.
Raad is claiming that the US prevented Lebanon from receiving Iranian donations.
"There is a group in Lebanon refusing to accept donations from Iran related to energy projects … because US sends officials like Feltman to thwart any attempt to accept Iranian assistance ," National News Agency quoted him as saying.
He added that international resolutions banning countries from carrying out transactions with Tehran were solely enforced by the US.
"For twenty years we have been hearing the Americans saying they want to [provide the Lebanese army with military hardware] but we have not yet seen anything," Raad said.
He added that the US was refraining from assisting Lebanon's military institution "because the army [wants] to stand by the [Resistance] against the Zionist enemy and not because the US is worried that its weapons might [fall into the hands] of the Resistance."
Hezbollah is Lebanon's only armed party and it is mainly backed by Tehran and Damascus.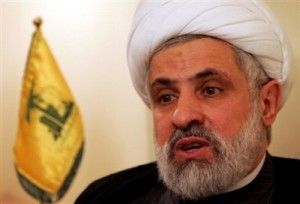 Similarly Hezbollah's no 2 commented on Feltman's visit by saying that Rahimi's visit to Lebanon was aimed at signing a number of agreements with Lebanese government on mutual cooperation in such different fields as electricity, water and education, which all serve the interests of the Lebanese nation.
"But, since the US does not want (Lebanon to gain) these achievements, it dispatched Jeffery Feltman to Lebanon prior to Rahimi's visit and asked him to remain in the country until the end of Rahimi's visit in an effort to provoke opposition to Rahimi's visit and hinder attainment of the visit's objectives," he added.
"Everybody knows how (desperately) Feltman was seeking to provoke others to reject Iran's aids…" Qassem stressed.
background
Since 2006, the U.S. has provided more than $720 million in support to the Lebanese military, including equipment and advanced training. Between March and October 2010 alone, this support included at least $18 million worth of military equipment and ammunition, including antitank missiles and launchers. Other shipments were in the pipeline but as soon as Hezbollah toppled the government of former PM Saad Hariri in January 2011 the US quietly halted all arms deliveries to Lebanon.
Most of Iranian donations are sent directly to Hezbollah. Even Lebanese banks are not involved in handling Iranian funds that go to Hezbollah, according to a Lebanese observer.
The observer who is familiar with the agreements between Iran and Lebanon said that they did not include any donations.. "There was nothing free ", he said
Another observer who is an expert in the energy field and who is very familiar with the Iranian oil and gas industry said Iran is trying in these agreements to offer its expertise in the oil and gas industry , but Iran he said has no expertise and the technology they are trying to offer is western and primarily American . He added any equipment that will be needed will all have to be imported from the western nations, because Iran does not manufacture any such equipment. He said Iran's expertise may be in operations but we have nothing yet to operate in Lebanon in the gas and oil area .
The observer noted that Iran through these agreement is trying to use Lebanon to acquire up-to-date technology because they cannot get it on their own due to the western sanctions. He said Lebanon is in a much better situation to acquire the technology and the equipment directly from the west at much more competitive prices and financial terms.