Iranian VP visits Lebanon-Israeli border area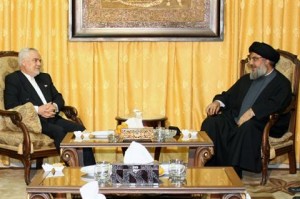 Hezbollah Secretary General Sayyed Hassan Nasrallah held talks with visiting Iranian Vice President Mohammed Reza Rahimi at an undisclosed location. Following the talks a statement was issued in which he said : "The resistance is capable of confronting all upcoming challenges " and expressed his gratitude to Rahimi for his country's continued support of Lebanon and the resistance party.
Rahimi, on the other hand stressed Iran's constant readiness to help Lebanon in various fields, according to the Hezbollah statement
The meeting was attended by Energy Minister Jebran Bassil, Transportation and Public Works Minister Ghazi al-Aridi, Telecommunications Minister Nicolas Sehanoui, Education Minister Hassan Diab and a number of political officials, including Iranian Ambassador to Lebanon Ghazanfar Rokn-Abadi.
Lebanon- Israeli border area
Prior to meeting with Nasrallah Rahimi visited Thursday the southern Lebanese border village of Maroun al-Ras which lies on the borders with Israel and spoke to Hezbollah supporters in the area.
The Iranian state agency IRNA reported that Iranian and Hezbollah flags were raised during the VP's visit to the "Iranian Park," which is located next to Israeli borders and which was built by Iran after the the 2006 war with Israel. Rahimi stressed the Islamic Republic's ongoing support for Hezbollah, during his visit
Suleiman meeting
Rahimi also met with President Michel Suleiman at the Baabda palace and handed him a handwritten letter from Iranian President Mahmoud Ahmadinejad:
Following the talks he said: "Iran is completely committed to supporting Lebanon."
For his part, Suleiman hailed the good ties and cooperation between Lebanon and Iran .
Rahimi's visit coincided with that of U.S. Assistant Secretary of State for Near Eastern Affairs Jeffrey Feltman and US Senator Joe Lieberman who arrived separately in Beirut on Tuesday evening on official visits to Lebanon. Suleiman reportedly assured Rahimi that this was strictly a coincidence.