Feltman stressed Lebanon obligations towards Syrian refugees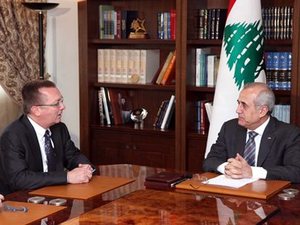 U.S. Assistant Secretary of State for Near Eastern Affairs Jeffrey Feltman held talks with President Michel Suleiman at the Baabda presidential Palace on Thursday.
The former U.S. Ambassador to Lebanon arrived on Tuesday on a three-day official visit.
The U.S. Embassy said in a statement that Feltman "completed his visit to Lebanon today and met with senior officials to discuss the political, economic and security situation in Lebanon, developments in Syria, and other regional issues."
It also said the U.S. official renewed Washington's "commitment to a stable, sovereign and independent Lebanon."
"Feltman expressed the United States' steadfast support for pluralistic and democratic governments in the region that protect the rights of all citizens, including ethnic and religious minorities," the statement added.
During his meeting with Feltman, Suleiman emphasized "the significance of helping to make Lebanon a center of dialogue of religions, cultures and civilization because it represents an honorable example of how the region should be," National News Agency reported.
Last December, Suleiman refused to meet with Feltman, in a tit-for-tat move after the U.S. officials declined to meet with the president when he was in Washington on an unofficial visit in September.
Syria
During talks with Lebanese leaders, Feltman was confident that Syria's embattled President Bashar Assad will eventually be toppled under pressure of a widening popular upheaval.
Feltman however said that Lebanon should brace itself for a long period of turmoil in Syria before any regime change takes place in Damascus .
He also reportedly reminded Lebanese officials that Lebanon has financial and humanitarian obligations towards Syrian refugees.
He also stressed Lebanon's obligations with regards to the implementation of the sanctions on the Syrian and Iranian regimes .
Busy schedule
During his trip to Lebanon Feltman, accompanied by the U.S. Ambassador Maura Connelly met many Lebanese officials. In addition to Suleiman he met with PM Nagib Mikati, Speaker Nabih Berri , Greek Orthodox Archbishop of Beirut Elias Audeh and several March 14 officials including former president and current Phalange party leader Amin Gemayel , former Prime Minister and current leader of the Future Movement bloc Fouad Siniora , MP Butros Harb and Lebanese Forces leader Samir Geagea.
Feltman also held talks with Progressive Socialist Party leader Walid Jumblat upon arrival on Tuesday
Berri told An Nahar that his talks with Feltman focused on the exploration of gas and oil in Lebanon's Exclusive Economic Zone. "What we care for is to define the maritime border between Lebanon and Israel and not to give up our rights."
As Safir newspaper also quoted Berri as telling Feltman that both the March 8 majority coalition and the March 14 opposition alliance agree on stability and reject the smuggling of arms to Syria through the Lebanese-Syrian border.
In his talks with Geagea, the U.S. official heard the details of the attempted assassination and the ongoing investigation
An Nahar reported that Geagea stressed to Feltman that the opposition is insisting on holding the parliamentary elections on time in 2013 and asked him for continued U.S. assistance to the Lebanese army.
Gemayel said after the meeting that Feltman's visit confirms that Lebanon remains the axis of diplomatic activity in the region.
Feltman's talks with Jumblatt focused on the 2013 polls , As Safir said and quoted PSP sources as saying that Jumblatt explained to his visitor his rejection of the proposed electoral law that is based on proportional representation.
Feltman's visit coincided with a two-day trip to Lebanon by U.S. Senator Joseph Lieberman, who urged Lebanon to help the Syrian opposition and do more for refugees fleeing the violence in their home country
The visit of both US officials drew fire from Hezbollah and its March 8 allies, who accused the U.S. officials of seeking to inflame strife in Lebanon.
"We cannot consider Jeffrey Feltman's visit to Lebanon as anything other than an attempt to rekindle strife among the Lebanese and undermine the foundations of coexistence by sowing discord among the Lebanese political parties," Hezbollah's Baalbek MP Hussein Musawi said.
Marjayoun-Hasbaya MP Qassem Hashem said Feltman's trips to Lebanon and the region were "a bad omen." He also slammed Lieberman's visit to the Lebanese-Syrian border, describing it as "a flagrant interference in internal national affairs and an infringement on national sovereignty."
Change and Reform bloc MP Nabil Nicolas slammed Lieberman for visiting the Lebanese Syrian border and said on Thursday that the visiting US official should be stoned and expelled from Lebanon.
"Don't the Lebanese know who Lieberman is? He is a Zionist [par excellence]. Is it possible to allow him to visit the northern [border] to cause new problems?" Nicolas asked during an interview with LBC television.
It appears that Nicolas is mixing up the US senator with the Israeli Foreign Minister Avigdor Lieberman. The Israeli FM is of Russian origin and is known to be a Zionist.