Key member of Aoun's bloc calls for stoning Sen. Lieberman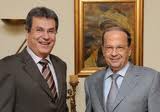 Change and Reform bloc MP Nabil Nicolas slammed US Senator Joe Lieberman for visiting the Lebanese Syrian border and said on Thursday that the visiting US official should be stoned and expelled from Lebanon.
"Don't the Lebanese know who Lieberman is? He is a Zionist [par excellence]. Is it possible to allow him to visit the northern [border] to cause new problems?" Nicolas asked during an interview with LBC television.
He also said that "the Lebanese army should not have accompanied Lieberman during his visit to the north because he does not have an official status."
Lieberman who was born in the US is a former US vice presidential candidate and considered one of the most powerful members of the US senate. Despite the fact that he left the democratic party and is now independent, he kept the chairmanship of the Senate Committee on Homeland Security and Governmental Affairs and remains a ranking member of the Senate Armed Services Committee.
It appears that Nicolas is mixing up the US senator with the Israeli Foreign Minister Avigdor Lieberman. The Israeli FM is of Russian origin and is known to be a Zionist.
One analyst told Ya Libnan : first: "Nicolas should know that not every Jew is a Zionist and second He should know who is American and who is Israeli and third Nicolas is a Christian and since when did Christians adopt the habit of stoning?
The analyst added:" We should all learn to respect each others' religion and not mix religious beliefs with politics . It is well know fact that the US senator is Jewish , so what!! the most powerful Christian country in the world was willing to have him as its president… Nicolas' statement is dangerous specially in a country that has 18 religious sects like Lebanon."
Nicolas is a key member of the Free Patriotic Movement which is headed by MP Michel Aoun, a close ally of Hezbollah. The Iranian and Syrian backed Hezbollah has been supporting Syrian president Bashar al Assad's regime in its crackdown against the pro democracy protesters. Over 11000 Syrian have been killed since the uprising began 13 months ago .
Lieberman visited the northern Lebanese region of Wadi Khaled on Wednesday, which is located near the Syrian border and houses the majority of an estimated 24,000 Syrians who have sought refuge in Lebanon.
Following his border visit, Lieberman urged Lebanon on Wednesday to help the Syrian opposition and do more for refugees fleeing the violence in their home country while voicing understanding of Lebanon's dissociation policy toward events in Syria.